I'm so excited to share this Air Fried Shrimp Spring Rolls recipe with you today! It's one of my favorite recipes to make because it's healthy, easy, and SO delicious.
The shrimp is air-fried, which means it's slightly healthier than normal frying. These spring rolls are perfect for a healthy appetizer or snack that the whole family will love!
Why I Love Air Fried Shrimp Spring Rolls
1. Great healthy appetizer. They're a great healthy appetizer or snack that is packed with flavor and nutrition. Air frying uses hot air to cook your food instead of oil, so it's much healthier than deep-frying.
2. Crunchy texture. The air frying process reduces fat and calories while still delivering a delicious, crunchy texture.
3. Bursting with flavor. The delicious recipe is filled with juicy shrimp and fresh crunchy veggies that are bursting with flavor.
4. Super easy to make. When I say super easy, I mean it! They're really easy to make and can be customized to your choice of ingredients. They also take less time to cook than deep-frying, making them a great option for busy weeknights or when you don't have much time to prepare dinner.
Love air fryer recipes? I'm sure you'll also love our air fryer sirloin steak, air fryer chicken thighs, air fried shrimp patties, and air fryer mac and cheese.
Ingredients and Substitutions
Shrimps: The star of the show is the shrimp! I used 24 large shrimps, peeled, and deveined. This is enough for 24 spring rolls. You can also substitute with other seafood variations like calamari or scallops but cook time might vary.
Spring Roll Wrappers: These are made of white flour, used to make the spring rolls. I like to use the square ones because they're big and hold a lot of filling! You can get these at any Asian market or grocery store's produce section. You can also use rice paper wrappers, egg roll wrappers, or even tortillas as a substitute. But keep in mind, the cooking time may vary for different wrappers.
Garlic: Some minced garlic will be needed to marinate the shrimp, and this adds that little extra flavor to the shrimp. If you don't have any fresh ones, use a teaspoon of minced garlic from the jar or some garlic powder instead.
Cabbage: I used about two cups of finely chopped cabbage. If you like cabbage, add more of it! It adds excellent flavor and cuts the richness of the shrimp.
Carrots: Chopped Carrots add significant color and flavor to the shrimp spring rolls, about 1 cup worth. You can't taste them, but they add a little extra oomph to the spring rolls!
Soy Sauce: I used about 4 teaspoons of soy sauce for the shrimp marinade. If you like your spring rolls a little saltier, use more.
Salt: You need to add a little bit to the shrimp marinade. If you don't want your spring rolls to be salty, you can omit this.
Pepper: Ground black pepper adds a little extra flavor to the shrimp. You can also use white pepper if preferred.
Cooking Spray: You need it to ensure the spring rolls don't stick to the rack and break apart. If you don't have one in hand, you can use a little bit of olive oil instead.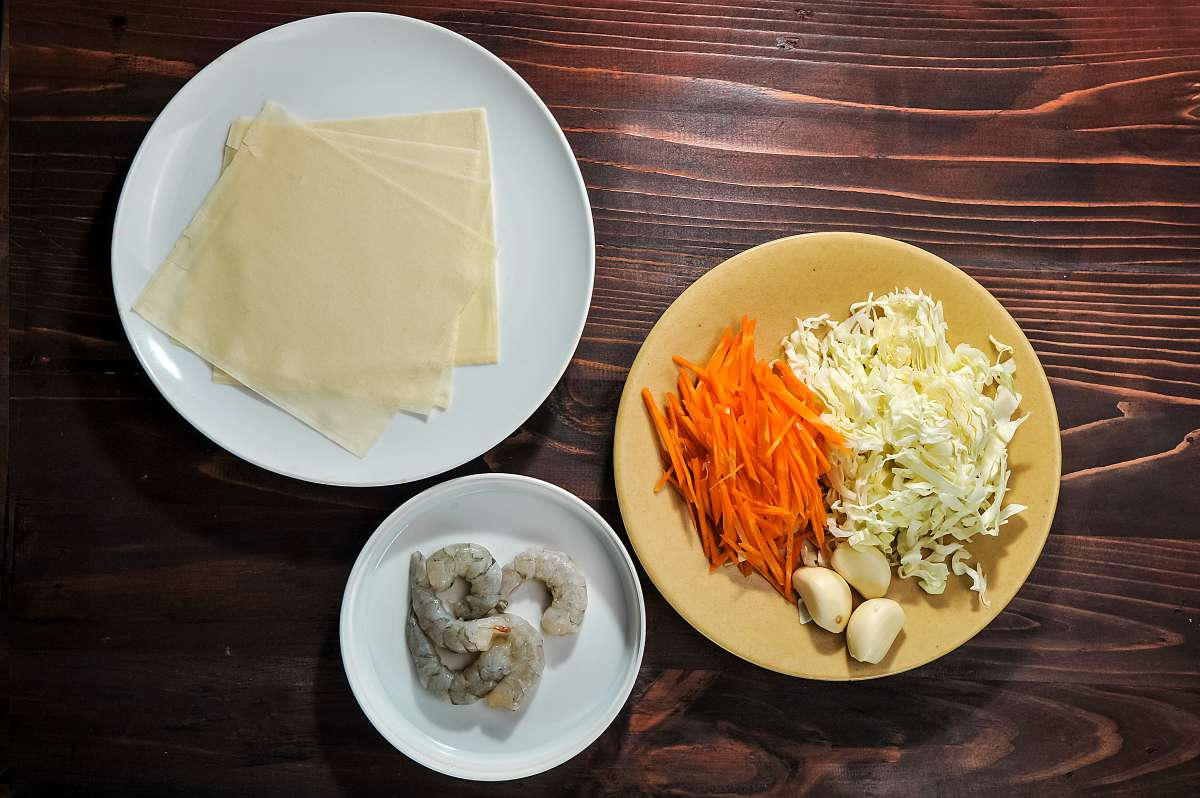 Air Frying vs. Deep Frying
I often get asked whether it is better to air fry or deep fry the Spring Rolls. Shallow frying them in oil is the traditional method I used before my Air Fryer days. Shallow frying gives you that nice golden fry look, but it also makes the spring rolls extra greasy and unhealthy!
I prefer using my Air Fryer because it uses less oil than deep frying and doesn't make the Spring Rolls greasy or unhealthy. When you air fry the shrimps, they already have a nice light flavor on their own, so they don't need much oil at all – just enough to coat the Shrimp Spring Rolls!
How long do you Air Fry the Spring Rolls?
The Shrimp Spring Rolls only take about 10 minutes to get a golden brown exterior. If you like them a little darker and extra crispy, leave them in the Air Fryer basket for a couple more minutes! Just keep an eye on them so that they don't burn.
Tips on How to Make Perfect Shimp Spring Rolls in Air Fryer
Tip 1: Marinate the shrimp.
Marinating the shrimp gives them a nice flavor boost and also helps keep them tender and juicy after they've been cooked.
Tip 2: Sauté the cabbage mixture.
Sautéeing the cabbage and other vegetables in a frying pan before wrapping helps to soften them up a bit, making them easier to roll up.
Tip 3: Do not overfill.
When assembling the spring rolls, be sure to not overfill them, or else they won't cook evenly. Just put enough filling so there is still room left on each side of the wrapper.
Tip 4: Use parchment paper, cookie sheet, or foil.
Putting them inside the basket helps prevent sticking and makes cleanup easier.
Tip 5: Flip them halfway.
To ensure that they cook evenly, I recommend flipping the spring rolls over halfway through cooking.
How do you store them?
The Spring Rolls will only last 2-3 days in the refrigerator. If you have a large family, you can double the Shrimp Spring Rolls recipe and freeze any leftovers, so they don't go to waste!
What is the best Dipping Sauce for Shrimp Spring Rolls?
The Shrimp Spring Rolls are great on their own, but if you want to spice things up a bit, try serving them with some Sweet and Sour Sauce! You can also use Sweet Chili Sauce if you like it spicy.
I also recommend a light and creamy dipping sauce such as sweet chili or garlic mayonnaise. Another delicious option is a classic Asian dipping sauce like duck sauce, rice vinegar, and chili paste.
If you're looking for something a little lighter, Shrimp Spring Rolls taste great with some soy sauce!
More Snacks Recipes
AIR-FRIED SHRIMP SPRING Rolls
Shrimp Spring Rolls are the perfect appetizers to serve at a party! Filling, tasty, quick to make, and easy to clean up – meaning anyone can enjoy them on any occasion! They only take 10 minutes to air fry, and can be enjoyed by the entire family. They go great with soy sauce, but if that's too boring, try serving them with sweet and sour sauce instead!
Ingredients
1

clove

Garlic

minced

2

cups

Cabbage

finely sliced

1

cup

Carrots

matchstick cut

2

cans

Shrimp

drained

4

teaspoons

Soy sauce

Salt and freshly ground black pepper

to taste

16

Spring roll wrappers

Cooking spray
Instructions
Preheat air fryer to 400°F (200°C).

Spray the air fryer basket lightly with cooking spray. Spray a medium sauté pan with cooking spray.

Add the garlic to the sauté pan and cook over medium heat until fragrant, 30 to 45 seconds. Add the cabbage and carrots and sauté until the vegetables are slightly tender, about 5 minutes.

Add the shrimp and soy sauce, season with salt and pepper, and then stir to combine. Sauté until the moisture has evaporated, 2 more minutes. Set aside to cool.

Place a spring roll wrapper on a work surface, so it looks like a diamond. Place 1 tablespoon of the shrimp mixture on the lower end of the wrapper.

Roll the wrapper away from you halfway, then fold in the right and left sides. Continue to roll to the very end, using a little water to seal the edge. Repeat with the remaining wrappers and filling

Place the spring rolls in the air fryer basket in a single layer, leaving room between each roll. You may need to cook them in batches. Lightly spray with cooking spray.

Cook spring rolls for about 8-10 minutes, flipping halfway through cooking until the spring rolls are crisp and golden on both sides.

Let cool for 5 minutes before serving.
Nutrition
Serving:
1
portion
Calories:
148
kcal
Carbohydrates:
40
g
Protein:
9
g
Fat:
1
g
Saturated Fat:
1
g
Polyunsaturated Fat:
1
g
Monounsaturated Fat:
1
g
Cholesterol:
8
mg
Sodium:
699
mg
Potassium:
209
mg
Fiber:
3
g
Sugar:
3
g
Vitamin A:
4391
IU
Vitamin C:
15
mg
Calcium:
63
mg
Iron:
3
mg