In today's recipe and guide, I will show you how to make the ultimate crispy air fryer frozen french fries. With this tried-and-tested technique, you'll never have to settle for a soggy and lackluster snack again.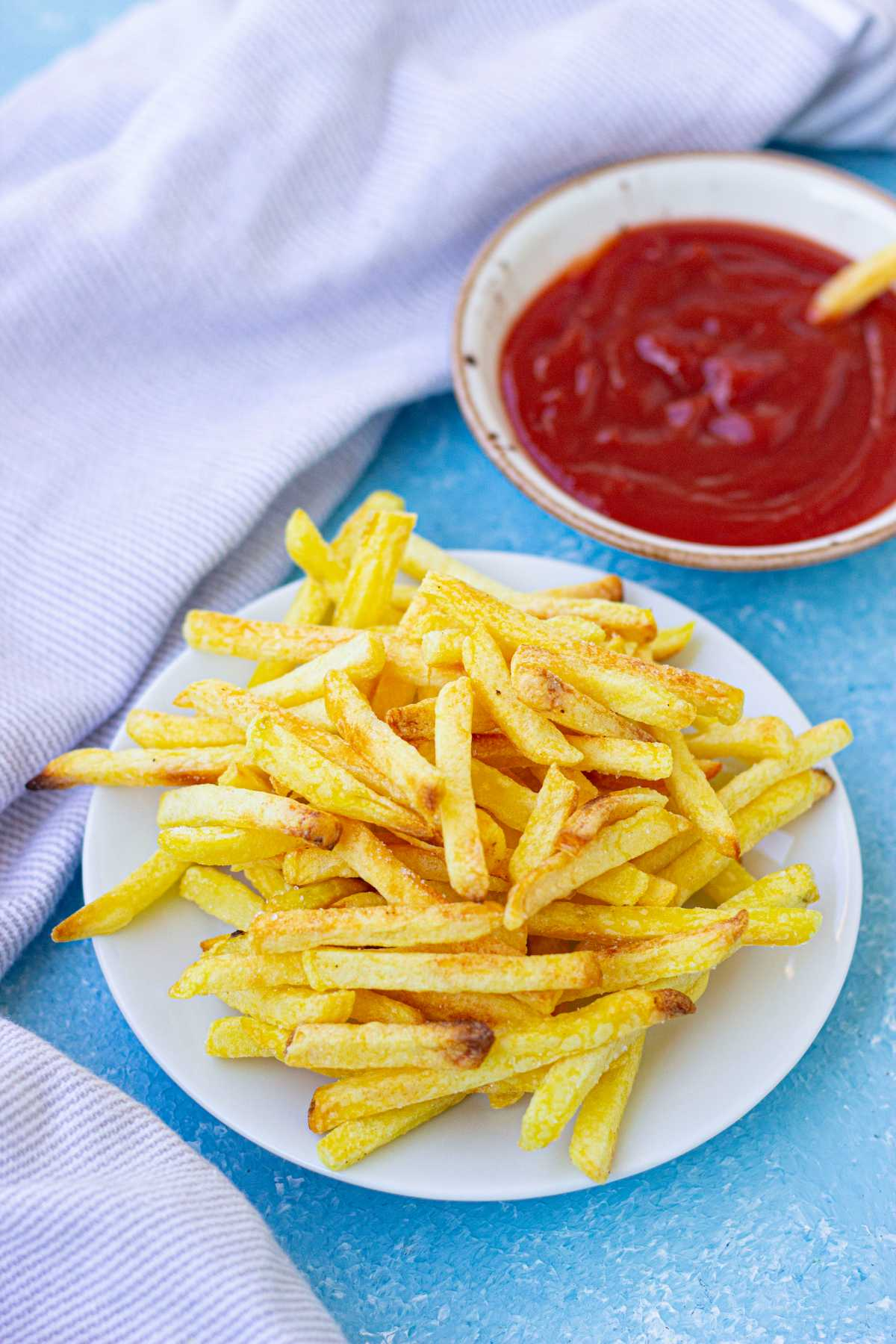 If you love these fries, you can serve them alongside a delicious Grilled Burger, Sticky Soy And Garlic Chicken Wings, or a simple Creamy Strawberry And Vanilla Milkshake.
Can You Cook Frozen French Fries in Air Fryer?
Why are people asking this? Aren't all store-bought french fries frozen?
But after some digging, I found a lot of articles that say things like "You cannot air fry frozen foods!" and "For better results, thaw your french fries first."
People were passionate about this topic. Almost like there's NO other way to cook food in an air fryer.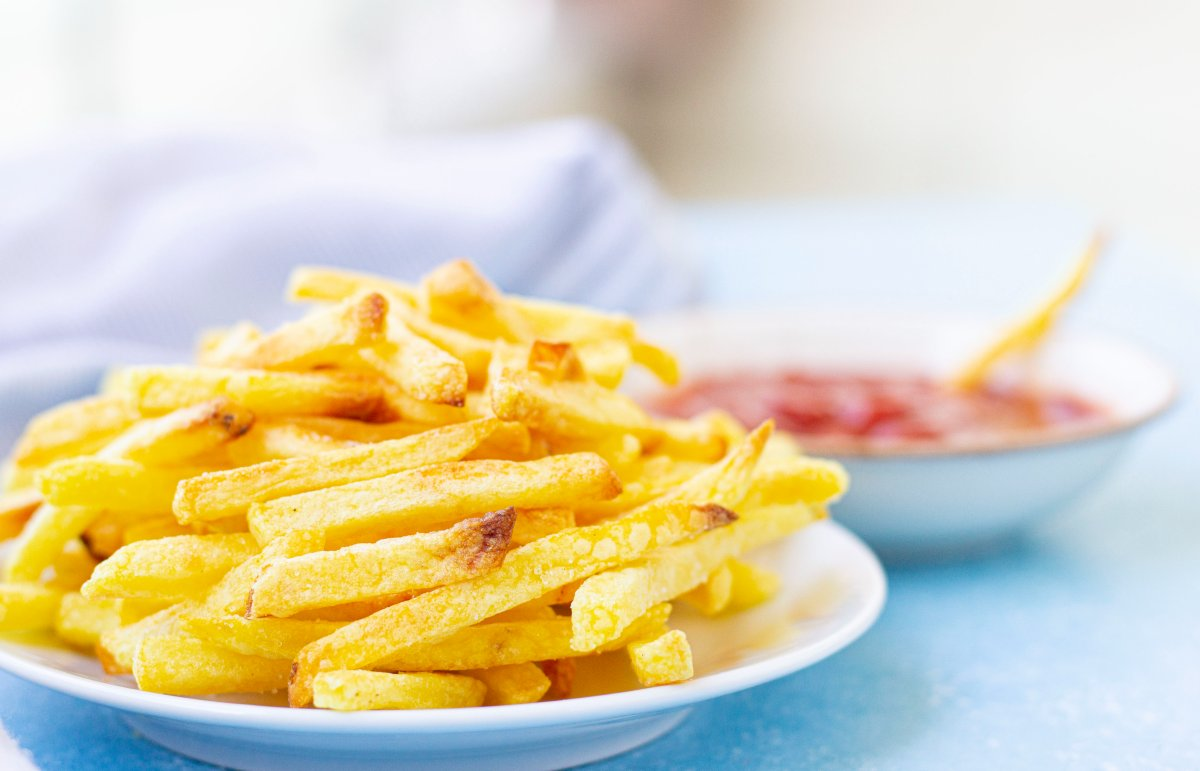 So today, I thought some clarity is needed on this topic.
To start, you can definitely cook frozen food inside an air fryer. It's no different from a deep-fryer or an oven.
Secondly, this whole thing of "thawing" pre-prepared food or dishes to get better results is complete nonsense.
If the package doesn't specifically say "thaw before cooking," there's NO NEED to do otherwise. It kind of defeats the purpose of this "quick and easy" meal.
And finally, after having done the tests myself, I can confidently say that your fries DO NOT come out better if they were thawed before they were air fried. In fact, these actually consistently came out soggy and took far longer to cook.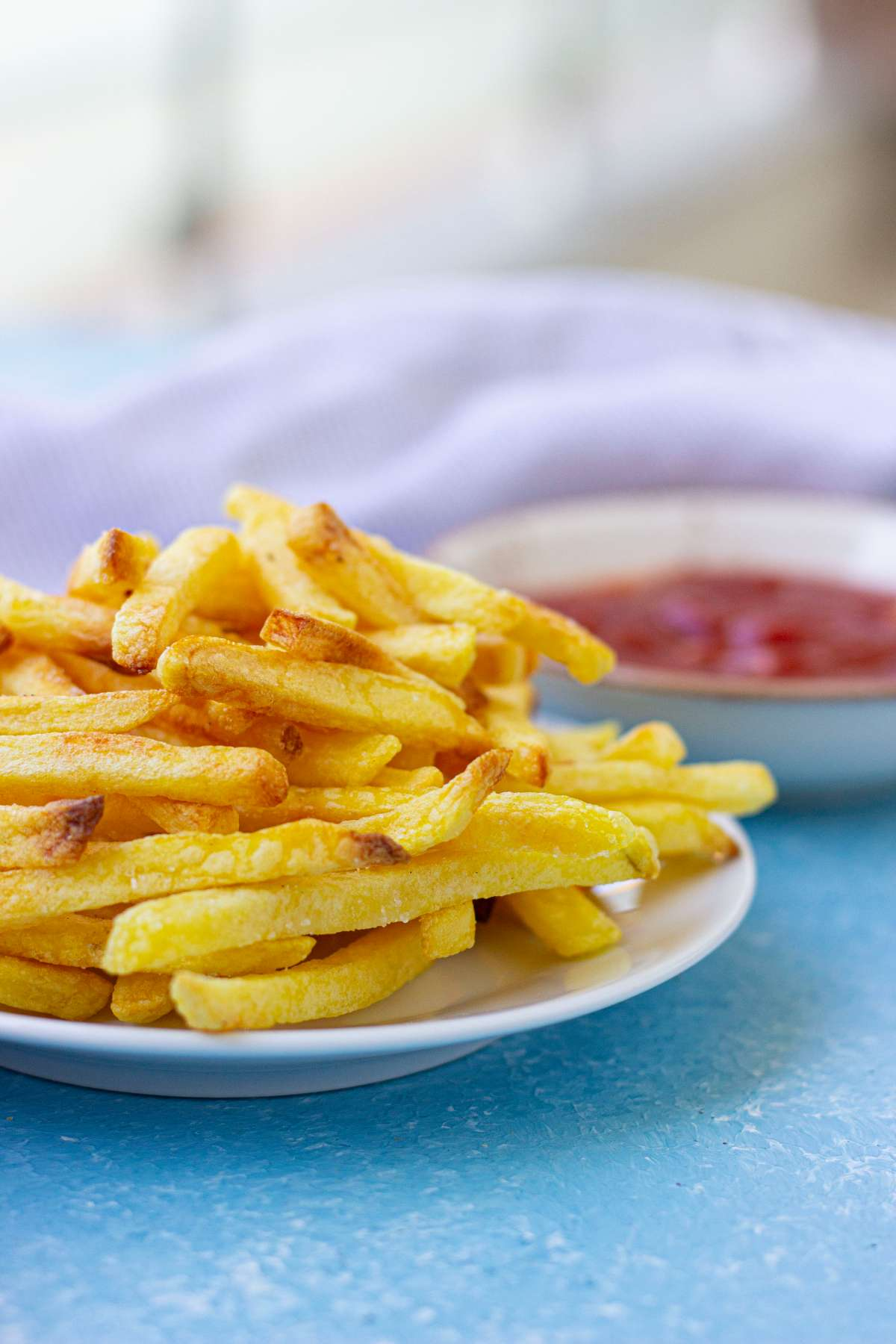 What You Need for Air Fryer French Fries
You basically only need two things: an air fryer and frozen french fries.
Now, the size of your air fryer will determine how many french fries you can add and cook at once.
No matter what this portion size is, always avoid overloading more fries into the air fryer basket. This will ensure that the frozen french fries come out evenly cooked and perfectly crispy every time.
Now, that being said, there are some other ingredients and tools that may come in handy. Keep reading and I'll also provide substitutes for you.
Also, to make clean-up a lot easier, line the air fryer basket with non-stick baking paper or a sheet of foil. Make sure the lining still has perforated holes to allow proper air circulation.
Check out more air fryer recipes! I'm sure you'll love my Air Fryer Potato Cubes, Crispy Air Fryer Eggplant Parmesan Slices, and Air Fryer Mac and Cheese.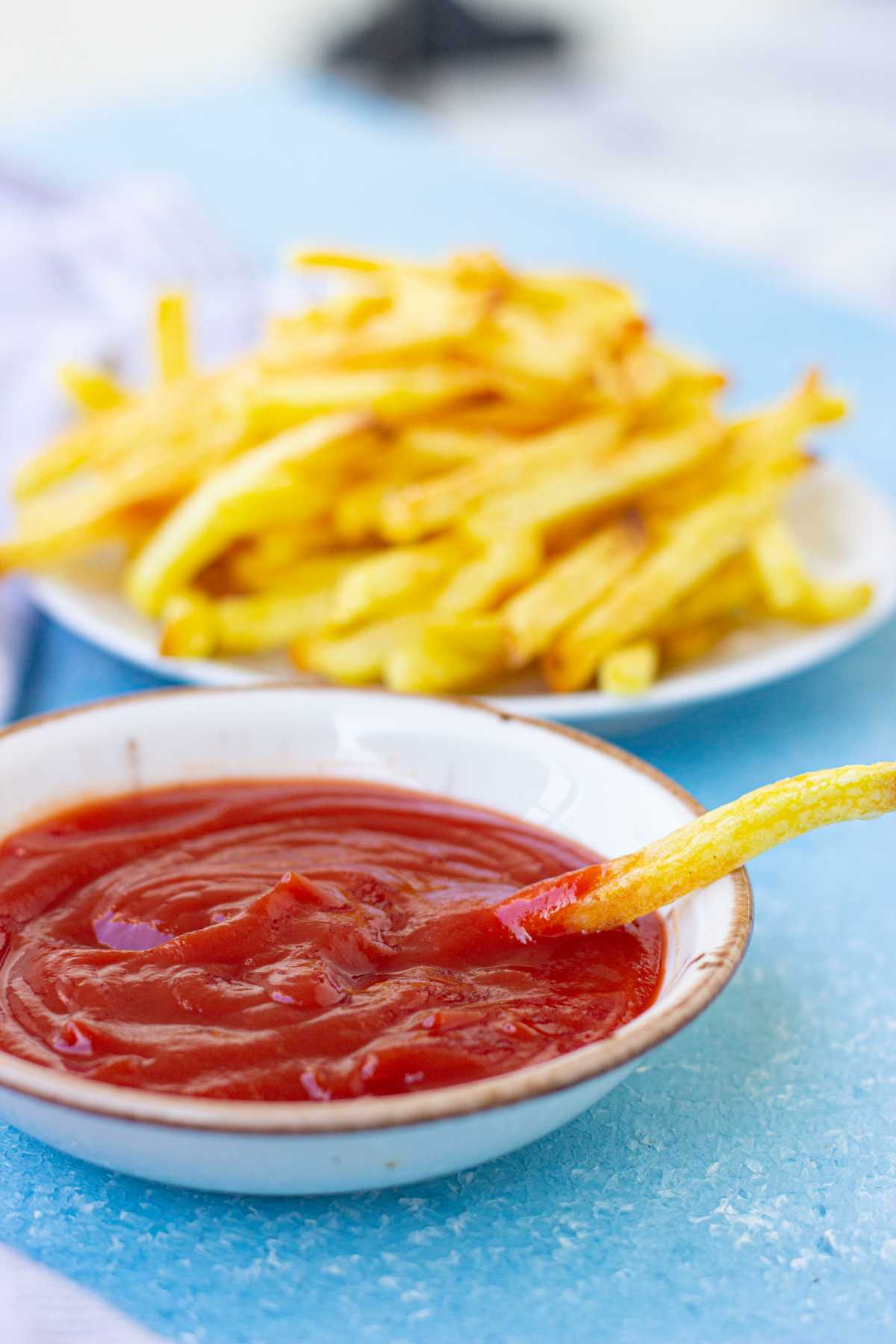 Air Fryer vs. Traditional Fryer: Which Is Healthier?
When it comes to comparing air fryers and traditional fryers, the healthier choice is definitely air frying.
Traditional fryers use much more oil than an air fryer does, making your dish greasy and unhealthy.
Air-fried food retains its flavor without all the added fat. So if you're looking for a delicious way to enjoy French fries without all the fat, an air fryer is your best bet.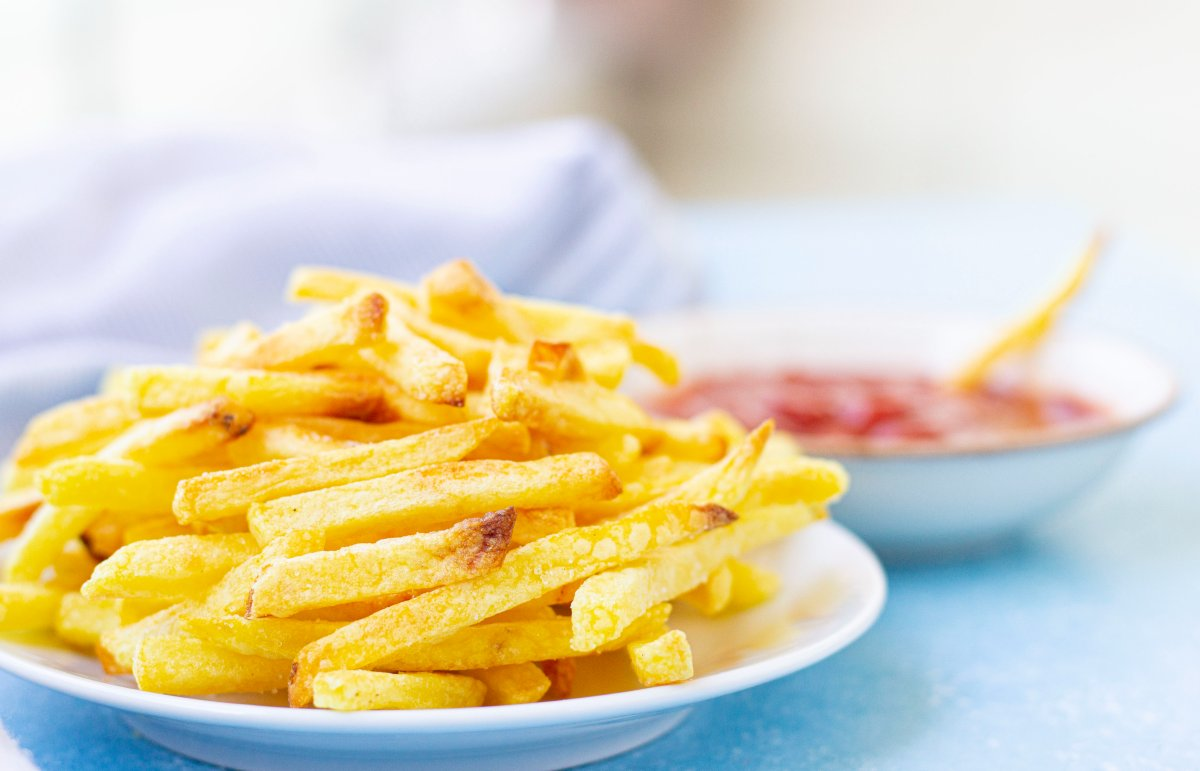 Ingredients and Substitutions
French fries – This air fryer recipe calls for Frozen french fries. But you can also use other types, such as sweet potato, waffle, crinkle cut, steak, or curly fries.
Olive oil spray – If you don't have this on hand, you can use other types of cooking spray, oil, or butter.
Fry seasoning of your choice – Fine salt usually does the trick. But you can use any seasoning blend like garlic powder, onion powder, paprika, cumin, chili powder, ground black pepper, or Italian seasoning. Or use a premade seasoning mix, such as Montreal steak seasoning or Cajun seasoning. For a healthier option, you can use herbs like thyme, rosemary, or oregano, along with a pinch of salt and pepper.
Tips And Tricks for Cooking Air Fryer Frozen French Fries Perfectly
Cooking fries is easy. But getting them perfect is a little more tricky. There are four main rules that you have to follow in order to get the ultimate fries!
Tip 1: Never Overload The Fryer
If you put too many frozen french fries inside the air fryer basket, they won't cook evenly or come out crispy. Be patient and work in smaller batches than your basket can handle.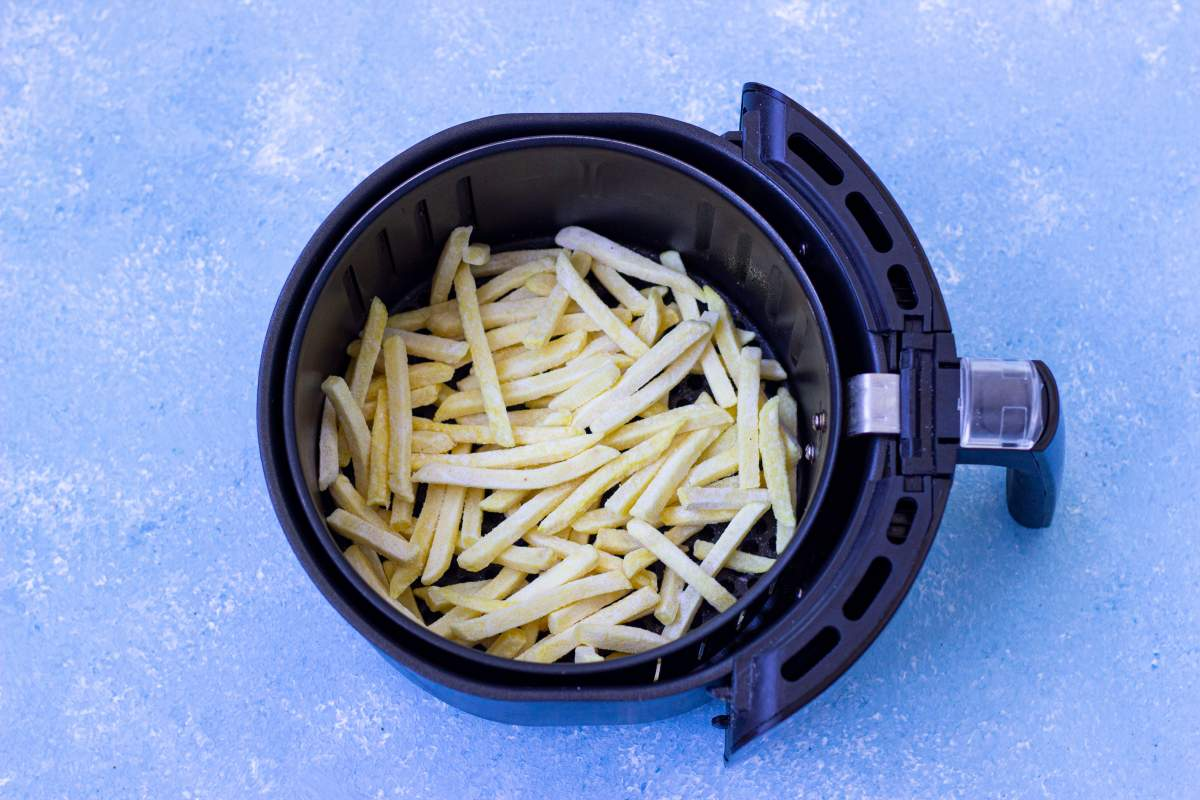 Tip 2: Don't Forget To Use Oil
Just because it's an oil-free frying technique doesn't mean you shouldn't ever use oil. It helps to make your fries crispy and is STILL much healthier than deep-frying foods.
Tip 3: You Have To Toss The French Fries
Tossing the food at the halfway mark helps the hot air distribute more evenly and exposes undercooked fries to more heat. It's a small, quick step that has a big impact on the texture of the final product.
Tip 4: Don't Overcook Them
And finally, we all love super crispy french fries, but not when they are completely dried out or burnt to a crisp. Follow the cooking time guidelines below and always keep an eye on the progress of your fries.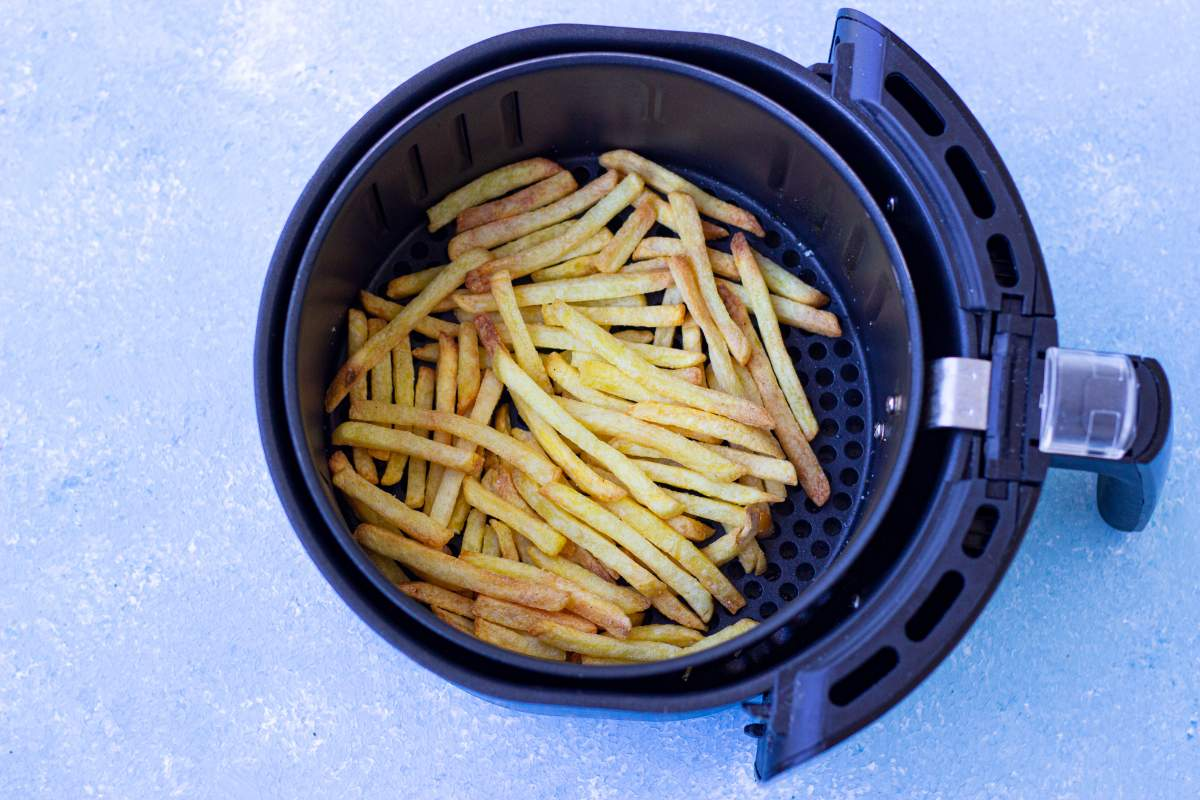 How Long Do You Cook Frozen Fries In An Air Fryer
The exact cooking time for frozen french fries mainly depends on the cut you are using. Because as you can clearly see when compared side to side, different cuts have drastically different sizes.
If you are making traditional french fries (the thin ones like your favorite fast food fries, McDonald's serves), you can cook them for 8-10 minutes.
If you are working with thicker kinds, you can cook them for 10-12 minutes.
Crinckle-cut, curly, shoestring, or waffle fries also take about 10-12 minutes to fully cook and become crispy.
And finally, if you are making steak fries and sweet potato fries, you can expect them to take between 15-17 minutes. Sweet potatoes are a lot denser than potatoes and take longer to cook.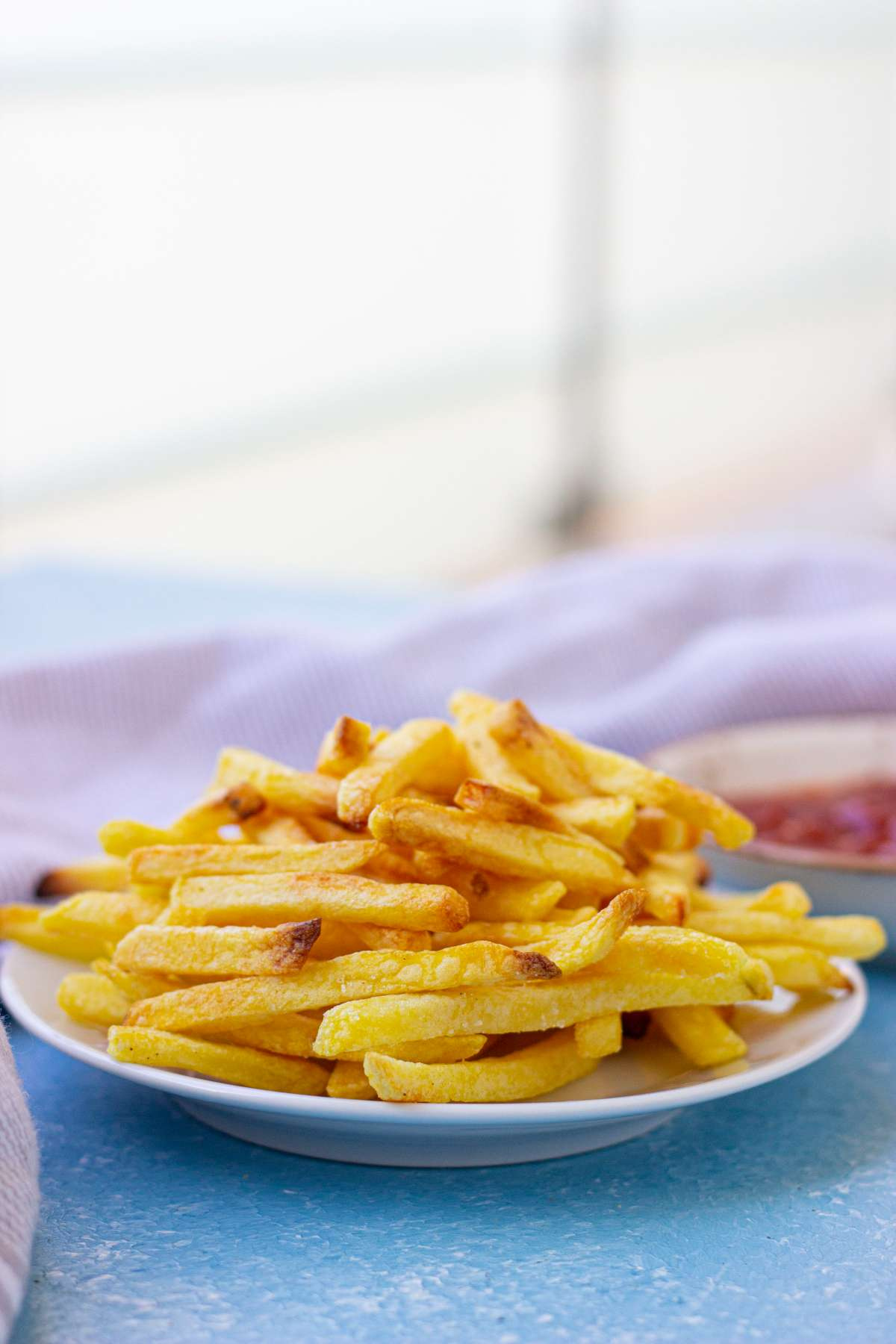 How to Serve
This air fryer french fries recipe can be served in a variety of ways. For a quick snack or a side dish, here are some creative ways to serve your crispy fries.
Classic with Ketchup – The classic way to serve crispy french fries is with ketchup. Ketchup is a versatile condiment that goes well with almost anything, and it's a great way to add some tanginess. You can also try other dipping sauces like cheese sauce, bbq sauce, ranch dressing, honey mustard, or aioli.
Loaded Fries – If you're looking for something more indulgent, try making loaded fries. You can top them with bacon, cheese, sour cream, and green onions for a hearty and satisfying snack.
Fries with Gravy – Homemade fries with gravy is a classic Canadian dish that's becoming increasingly popular worldwide. Top them with hot, beefy gravy for a delicious and comforting snack.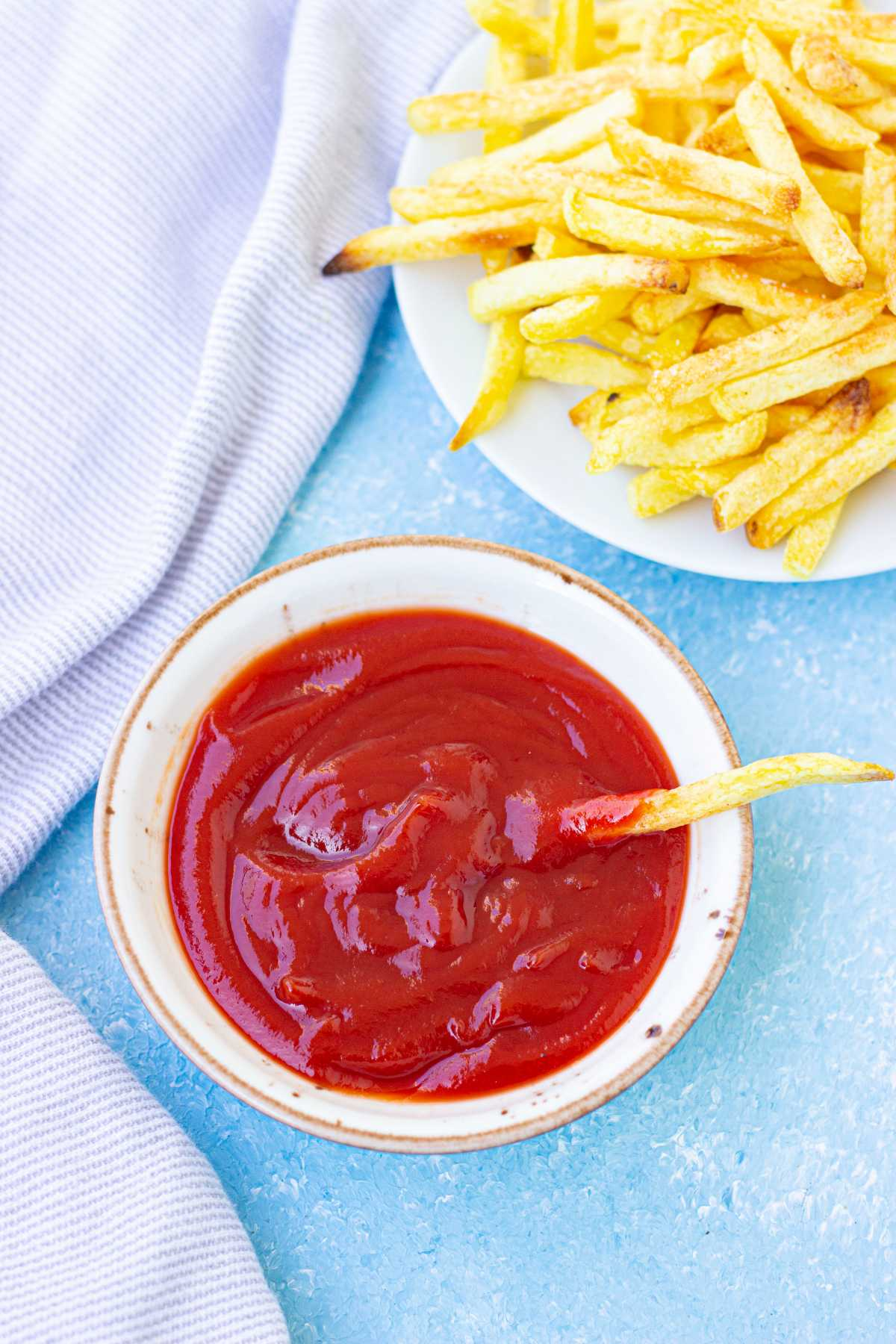 Fries with Cheese – You can sprinkle shredded cheese on top and melt it in the toaster oven for a cheesy and delicious snack.
Fries with Garlic – This is a popular dish at many restaurants, and you can easily make them at home. Just toss them with garlic, parsley, and olive oil for a flavorful and aromatic snack.
Fries with Seasoning – Seasoning them is an easy way to add some variety to your snack. You can try different seasoning blends like Cajun, chili powder, onion powder, garlic powder, or garlic salt to add some spice and flavor to your snack.
Fries with Toppings – You can also top them with a variety of toppings like chopped tomatoes, diced onions, and jalapenos for a delicious and colorful snack.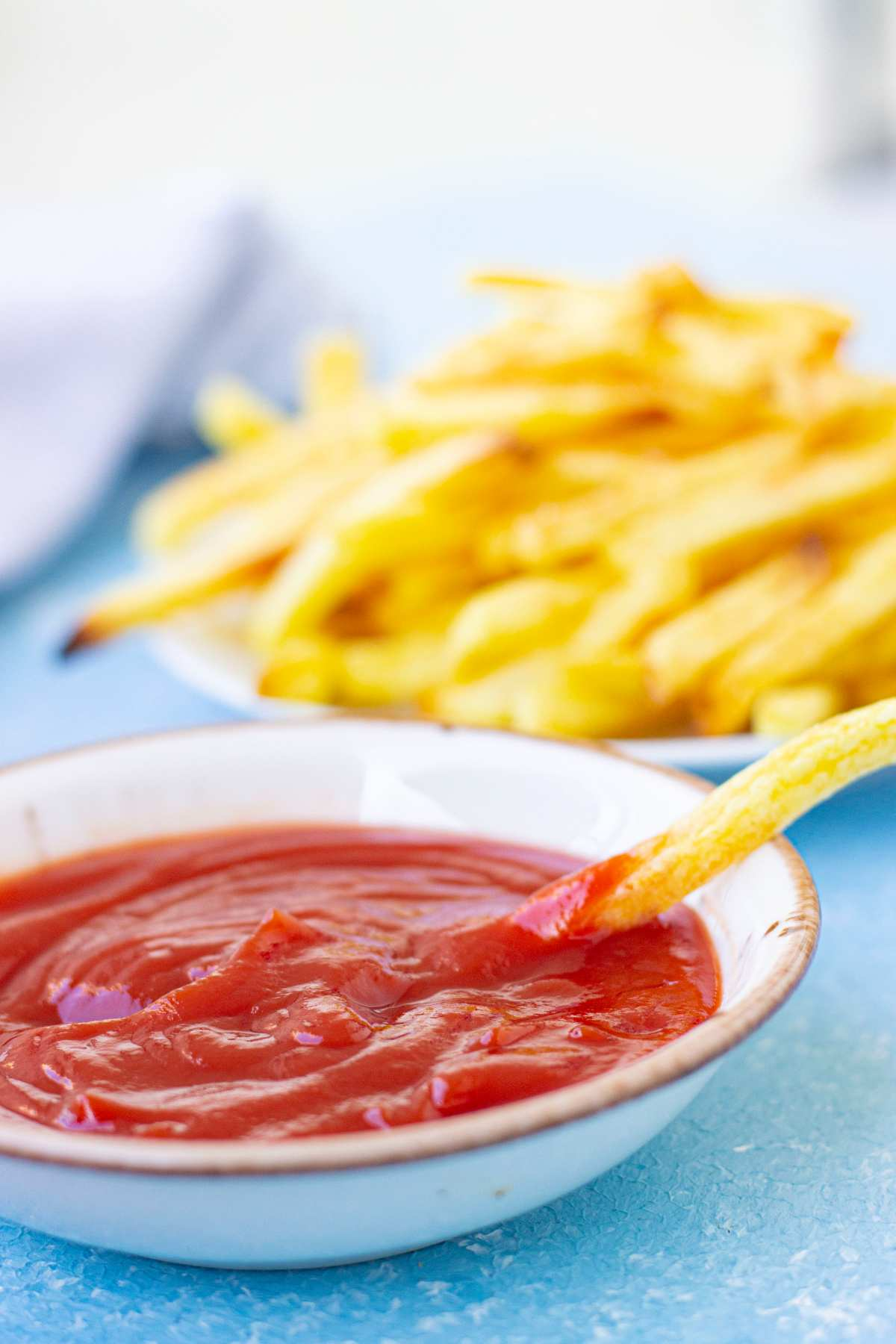 How to Store and Reheat
Storing Air Fryer Frozen Fries
Refrigerate: You can store your leftovers in an airtight container in the refrigerator for 3 days.
Freeze: If you're not going to eat the leftovers within 3 days, you can freeze them instead for up to 6 months. Just place them in a single layer on a baking sheet and freeze until solid, then transfer them to a ziplock or a freezer bag.
Reheating Air Fryer Frozen Fries
Oven: Preheat your oven to 400°F. Spread them on a baking sheet in a single layer and bake for 10-15 minutes until they're crispy and heated through.
Air Fryer: Preheat to 375°F and reheat fries in an air fryer in a single layer. Cook for 5-7 minutes until they're crispy and heated through.
Microwave: While this is not the best option, you can also reheat them in the microwave. Place them in a microwave-safe dish and heat them in 30-second intervals until heated through. But, take note that this method may result in soggy fries.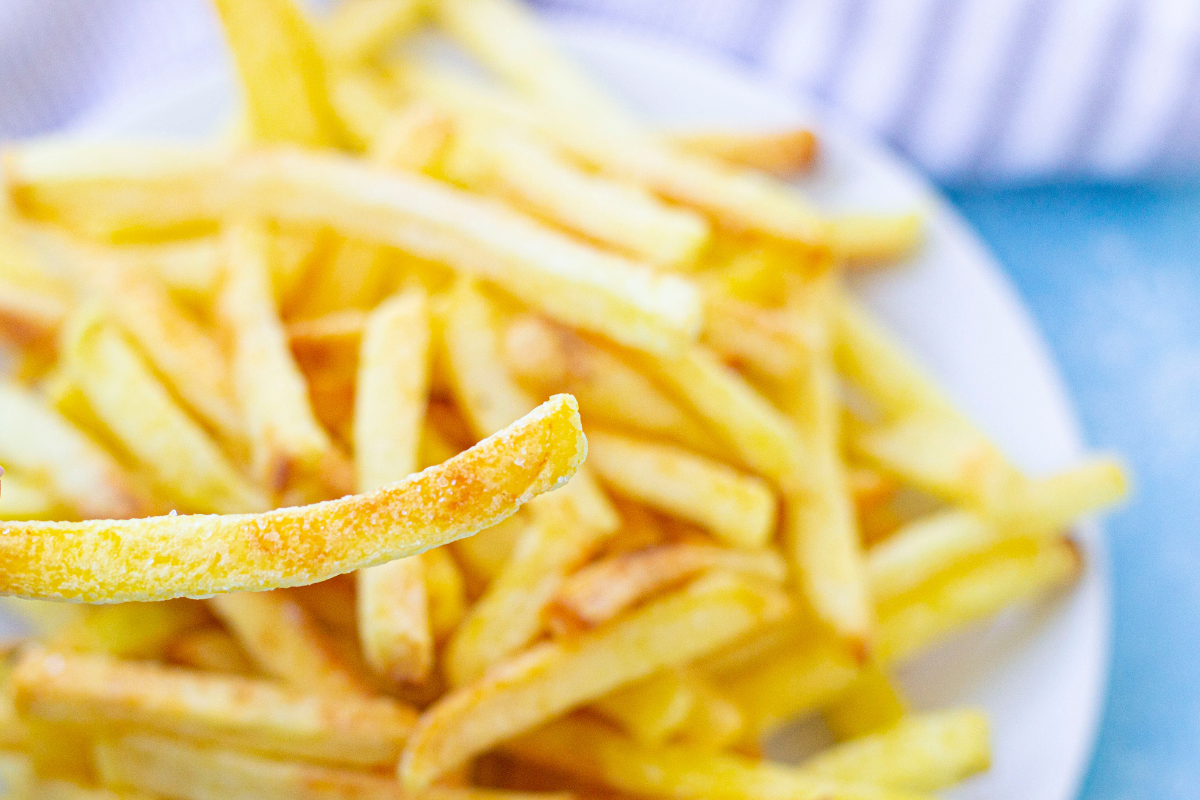 FAQs
Why Are My Air-Fried French Fries Soggy?
There are a couple of reasons for soggy fries. When cooked from frozen, it will usually either be because you used the wrong frying temperature (too low) or because you overloaded the air fryer basket. It could also be due to undercooking, but that's less likely.
Are Frozen French Fries In An Air Fryer Healthy?
It's healthier to air fry frozen french fries than a deep-fryer. It uses significantly less oil and thus lowers your calorie consumption.
Why do fries taste bad in the air fryer?
Your fries may taste bad due to improper preparation, incorrect temperature or time settings, poor quality fries, or overcrowding of the basket.
To avoid this, season, and coat them with oil before cooking, use the correct temperature and time settings, and avoid overcrowding. By following these, you can enjoy delicious and crispy air fryer fries.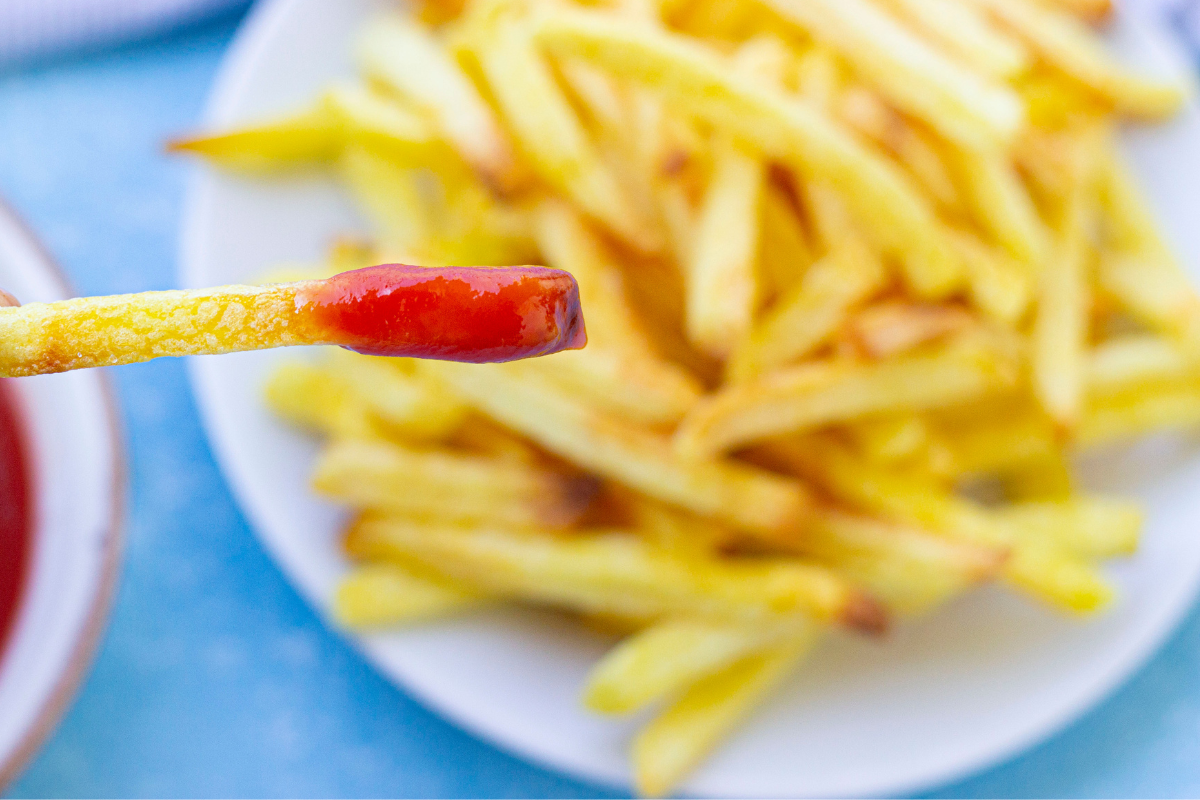 Air Fryer Frozen French Fries
Making french fries from frozen in an air fryer is super easy! And here's how you can get the best results!
Ingredients
1

package

French fries

Olive oil cooking spray

Fry seasoning of your choice
Instructions
To start, preheat your air fryer to 400⁰F (200⁰C). Make sure it is on the "air fry" setting and not anything else. This will affect the frying time.

Once preheated, place the frozen french fries inside your air frying basket. Make sure to not overload the basket. There should be about 2 layers of fries, not densely packed.

Next, spray some cooking oil on the fries BEFORE you start frying them. This just helps make them extra crispy and beautifully golden brown. You can season the fries now if you want, but I prefer doing so afterward.

Close the air fryer. Leave the fries to cook for roughly 8-10 minutes. At the halfway mark, give the fries a good shake in the basket. This helps distribute the heat and allows the fries to cook better.

Once the fries are finished cooking, toss them in your favorite seasoning and serve them while they are still warm.
Nutrition
Calories:
176
kcal
Carbohydrates:
19
g
Protein:
2
g
Fat:
10
g
Saturated Fat:
3
g
Polyunsaturated Fat:
1
g
Monounsaturated Fat:
6
g
Sodium:
312
mg
Potassium:
274
mg
Fiber:
3
g
Vitamin C:
4
mg
Calcium:
6
mg
Iron:
1
mg